Best-in-Class Mass Spectrometry Medical Device Systems
Delivering accurate, timely patient test results so clinicians can make informed treatment decisions is paramount. To meet the needs in a rapidly changing regulatory and reimbursement environment, clinical diagnostic laboratories must sustain maximum uptime with systems that can easily handle the most challenging IVD assay applications.
Our clinical tandem mass spectrometry systems are affordable benchtop platforms that give you high sensitivity, low detection limits and high specificity, and are powered by intuitive software that makes learning and running your mass spec system easier than ever.
Discover the benefits of your SCIEX mass spec system:
Better data – particularly for your more challenging assays
Improved turn-around-times – provide more detailed test results faster
Extended testing menus – add to the breadth of your services
Designed for usability – rapid integration into your lab
Improve how you support your clinicians with high quality, timely and trusted results using powerful MS detection.
Topaz ™ System
The Topaz system is the LC-MS/MS solution clinical labs have been waiting for – simple to learn, adopt and sustain, it sets the new standard for accuracy without the complexity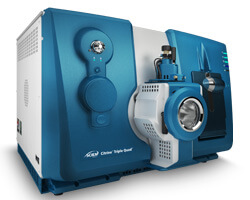 Citrine™ Mass Spec
The superior speed and performance of the Citrine MS/MS system allows you to increase clinical laboratory efficiency by developing large multi-analyte panels
4500MD Mass Spec
The 4500MD system provides you with highly sensitive, fast and robust all-purpose clinical mass spec solutions for in vitro diagnostic use
3200MD Mass Spec
The 3200MD system is an affordable, benchtop clinical mass spec platform combining sensitivity and selectivity with ruggedness and reliability, offering unique application versatility
Jasper™ HPLC System
The Jasper HPLC system is an FDA Class l and CE-marked in vitro diagnostic HPLC system, intended for use with SCIEX medical device mass spectrometers, for a complete SCIEX solution. For in vitro diagnostics use
IVD-MKT-18-2631-E